Could cross-laminated timber replace concrete and steel as buildings of the future in Malta?
Here's a kicker:
When coal made a first appearance in the 17th century, and oil extraction ballooned in the 1850's, everyone hailed them as miracle solutions of clean energy.
Because before fossil fuels became the major players, wood was the go to for warmth, fuel and as a building material.
And unsurprisingly, our reliance on said timber, exacerbated by uninformed and unsustainable practices, led to widespread deforestation. By the 16th century, Britain had effectively ran out of wood and by the time we discovered coal, and oil, wood shortage was a full blown crisis.
Thanks to the fuels, energy-intensive processes such as the mass production of concrete and steel became a reality. Moreover,  the emergence of electrical lifts in 1887 meant cities could grow up. Not keen on having giant tinderboxes, we took wood out of the equation.
And thus, concrete and steel, powered by fossil fuels dominated the 20th century, but their hidden costs are becoming ever more obvious.
Just earlier this month, more than 11,000 scientists joined together to warn that the Earth, in their words, "clearly and unequivocally faces a climate emergency."
The scientists represent several fields of study and come from 150 countries around the world. In a report published by Bioscience, the scientists declared that the world would face "untold human suffering" if it does not make deep and lasting shifts in human activities that influence climate change. One of them? Chop our CO2 emissions.
Or in the words of Bernie: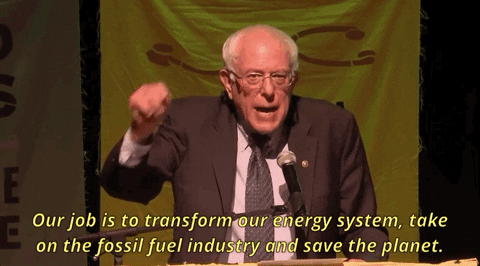 But some architects are drawing a circle back to wood as a solution, and are advocating for a new 'timber' age.
"Cross Laminated Timber" is an engineered-wood product that promises to take wood-based construction to a whole new level, eliminating wood's traditional disadvantages and potentially solving the repercussions of/and our heavy reliance on oil and coal.
Cross Laminated Timber (or CLT) is lighter but is comparable in strength to concrete and steel.
Cross-Laminated Timber refers to a process where many layers of wood are glued together at 90 degrees. The glue used to hold the layers together increase strength. Added flexibility reduces stress-cracking.
Jorge Calderón industrial designer and prominent figure in the CLT movement explained to José Tomás Franco, author at ArchDaily.com that:
"Due to the cross orientation of each of its longitudinal and transverse layers, the degrees of contraction and dilation of the timber at the level of the boards are reduced to a negligible amount, while the static load and shape stability are considerably improved."
A key advantage of CLT is that it delivers the same structural strength as reinforced concrete, but it's a material with a high degree of flexibility that has to undergo great deformations to break and collapse – unlike concrete. Moreover, 1 m3 of concrete weighs approximately 2.7 tons, while 1 m3 of CLT weighs 400 kg and has the same resistance. The same goes for steel. Thanks to its properties, CLT has been called "the concrete of the future."
Compressed laminated timber is fire proof
Compressed wood is also fire retardant, believe it or not! It's a tree's natural protection against forest fires. The wood may lose some of its structural mass, but when you remove the source of flame it extinguishes itself. When steel gets hot, it gets a bit softer. The architect in the video has seen steel roofs collapse in fires where wooden roofs have not.
Architects around the world are advocating for the exemption of CLT from bans on combustible materials
In response to the Grenfell Tower Block's fire in London two years ago, the UK government banned the use of combustible materials in the external walls of buildings over 18m in height.
Waugh Thistleton, who designed the Dalston Works development in London – the world's largest CLT building and a winner of the Modern Methods of Construction Project Award in the World Architecture News Awards 2018, welcomed the response, but advocated for CLT to be exempted, asserting,
"We are clear that mass timber construction is not a valid target for this change and will continue to advocate for its exemption."
The bark in trees soak up the CO2 emissions in the air, locking it into the timber.
The plan is that future wooden buildings will do the same. One study showed that using wood to construct a 125m skyscraper could reduce the building's carbon footprint by up to an astounding 75%. It's also important to note that wood is less costly to produce, and can be grown sustainably. However, when it comes to Malta, important is a significant added cost.
Unlike concrete and steel, timber is very easy to transport.
Of course, does not mean it's going to be necessarily cheaper than concrete. We need to import all of our timber, but we can produce concrete using local quarries, and we can't really afford to chop off more trees period.
Like other mass timber products, CLT can be used in hybrid applications with materials such as concrete and steel, reducing rather than replacing the use of concrete and steel.  It can also be used as a prefabricated building component, accelerating construction timelines.
Won't this just lead to deforestation again?
Not necessarily. A transition back to wood can actually drive up demand for reforestation and investment in research to green up the globe. Moreover, there's a lot of lessons we learned from our sixteenth century predecessors, and with the right regulations in place, a shift back to timber may be possible.
AP Valletta gives us their opinion on the use of CLT
London, Scandinavia, Central Europe & North-America have invested in Wooden high-rises. But what do Maltese architects think of this method? Do they think that Malta should chance building with CLT?
We contacted AP Valletta, who specialise in sustainable architecture among other forms of buildings, to give us their thoughts on Wooden High-rises:
"There is no locally available timber in Malta and therefore it has to be imported. The financial and environmental cost of importing timber on very large scales has to be taken into account.
Despite wood is lighter than concrete and steel, it is also weaker in strength. For high rise buildings it makes sense to use materials that can carry more. This means that smaller columns and walls are required resulting in bigger usable floor areas. In a place like Malta, where the cost of land is high, it is a factor worth considering in the choice of material. The use of timber in high rise buildings is also limited by the fact that it tends to settle much more than steel and concrete. New developments in timber may overcome these shortcomings and make it a more feasible option. The trend overseas is to push the limits of timber in building structures. Timber is very suited for roofing over large spaces since it has a very good strength to weight ratio and has already been used successfully for similar structures in Malta. Also, it has very good environmental credentials due to its carbon-sequestering capabilities and is totally renewable."
CLT alone may not work for sky-scrapers in Malta, but it shouldn't be counted out as a player in our future buildings and roofs.
And considering how much sun hits our island throughout the year, coupled with our grave need to actively diminish our air pollution, the possibilities of cross laminated wood are enticing.
The lack of human-centred design in our public spaces remains an ongoing issue. In our article on developments changing Mellieħa, the lack of shelter and roofing in the newly square stood out. We don't think concrete or steel are going to go away anytime soon, but is it time for timber to become a player again?
Curious?
The Economist recently published a thought-provoking video on using wood as the material for our future constructions.  Take a look:
What do you think of Cross Laminated Timber as a building material in Malta?
Do you know an architect or a designer with something to say? Forward them to this article!